Overview of Thailand

Map

Have Map

No Map
Bangkok attractions
Attractions in Thailand
Thailand
is officially known as Kingdom of Thailand which is located in Southeast Asia Formerly known as Siam It is the 50th largest in the world with an area of ​​approximately 513,120 square kilometers. It has the 20th largest population in the world and borders Burma to the north and west. northern Laos and the east Cambodia east and Malaysia in the south
Thailand
has 77 provinces located in the middle of the Indochina Peninsula in Southeast Asia. and also on the Malay Peninsula Thailand has many topography. The northern region is the most complex area. And the highest point in Thailand is Doi Inthanon. Most of the
northeastern
region is the area of ​​the Korat Plateau. Soil conditions are dry, not conducive to cultivation. The central region is a plain to the Chao Phraya River. which is regarded as the largest river in Thailand which originated from the Ping River and the Nan River The central region is the most fertile region. It is an important rice cultivation area. The southern part will be part of the Malay Peninsula.
Thailand is regarded as the biodiversity of plants. and a large number of animals With more than 50 wildlife sanctuaries and 56 non-hunting areas, poaching has resulted in many areas endangered. The climate of Thailand is mostly a hot and humid climate. or the savannah According to Koppen climate division, the extreme and eastern parts are tropical monsoon climates.
The climate of Thailand is tropical. or a savanna The average temperature is 18-34 degrees, with an average rainfall of more than 1,500 millimeters throughout the year, divided into 3 seasons, between February and April is the summer. And between May and October is the rainy season. Thailand is influenced by the southwest monsoon in the South China Sea. and tropical cyclones And in November to about mid-March is winter. Thailand will be influenced by the northeastern monsoon from China. And the south will have a rainforest climate. which will have hot and humid weather all year round It is divided into 2 seasons, which are summer and rainy season. Summer starts from May until September. and the west coast Summer is from November until April. The total population in 2010 was 65,926,261 people.
Thailand is considered a producer. and the world's largest rubber exporter And rice is also the most important crop of Thailand. Thailand is considered a country of ethnic diversity. They are divided into Central Thai 30%, Isan or Laotian 22%, Lanna 9% and Southern 7%. There are 62 government-recognized ethnic groups. Culture in Thailand is influenced by Indian, Chinese, Khmer and religious cultures. Buddhism and Hinduism.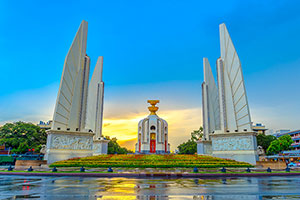 Administrative system of Thailand There is a state form of a monarchy under a constitutional monarchy. and use a parliamentary democracy It is a democratic system with the King as Head of State. The Constitution of the Kingdom of Thailand, BE 2550 (2007), No. 18, will have three parts of the management of powers as follows:
1. Legislative powers, a two-household system consisting of the House of Representatives and the Senate, with a total of 630 members. and having the chairman of the council as the head of power.
2. The power of the House of Representatives consists of 500 representatives, 375 elected by constituencies and 125 by proportionately elected, serving 4 years each time. The Senate will consist of 150 members elected by provincial elections. 1 person per person (including Bangkok) and from the recruitment of 73 people, there will be a committee that selects 7 senators, holding office for 6 years each time and cannot be more than 1 time in a row.
3. Executive power, with the Prime Minister which came from the appointment by the King of Thailand According to the statement of the President of the National Assembly and the Cabinet The Prime Minister is the head of judicial power and has a court system which consists of the Court of Justice, the Constitutional Court and the Administrative Court. with the President of the Supreme Court, the President of the Constitutional Court and the President of the Supreme Administrative Court as the head of their own They can hold office for 4 years at a time and not more than 8 years in a row by being directly elected by the Thai people. but was approved by the House of Representatives The Thai Cabinet will consist of one Prime Minister and no more than 35 other ministers.
Thailand's economy Thailand has a mixed economy. It has the main income from the industries, exports and services, tourism and agriculture. It is the world's 24th largest export value and 23rd global import value.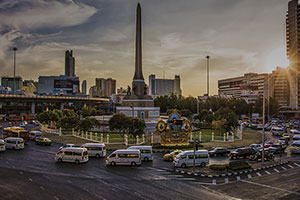 Thailand's transportation mainly use land transport The main highways are Phahon Yothin Road, Mittraphap Road, Sukhumvit Road and Petchkasem Road, etc. There are also mass transit systems such as buses, trains, sky trains and subways. It also includes taxis such as taxis, motorbikes and tuk-tuks. and air transport There is Suvarnabhumi Airport The largest in Thailand water transport section will be mainly used by boat There are many ports such as Bangkok Port, Khlong Toei Pier. and Laem Chabang Port, etc.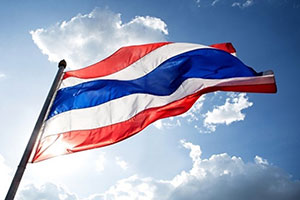 Flag and Thai national anthem or tricolor flag It has a rectangular shape with 3 colors: 1. Red is the nation 2. White is Religion 3. Blue is the King.
Thai national anthem There are lyrics as follows: "Thailand unites Thai blood and flesh to become a civil state, all parts of Thailand Live and maintain all Thais with all meanings, love and unity, this Thai loves peace, but is not afraid to fight. Independence will not be oppressed. Sacrificing every drop of blood Greater the nation of Thailand, Thawee Mechai Chayo" Lyricist: Colonel Luang Saranupraphan (Nuan Pachinpayak) in the name of the Royal Thai Army Lyricist: Phra Janeduriyang (Piti Watakorn).
Local Food of Thailand Most of the time, the cooking will be staple, curry, stew and yum, which has very simple cooking methods Does not take much time But with meticulousness Use relatively little cooking oil. Not much meat is used. The protrine source can be from fish, eggs, pigs and other animals. Some local Various seasonings will use natural herbs. Most importantly, a variety of local food that can be found Will bring it to cook Or used to make dips and chili foods Or different types of simmer, traditional Thai food is low-fat but high in dietary fiber It has nutritional value such as vitamins, minerals, enzymes, fatty acids. Which is safe from chemicals and also provide medicinal value.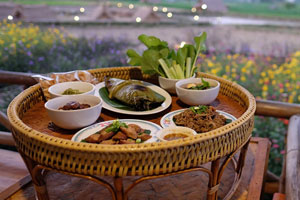 North Foods
There is a way of life bound to the culture of rice cultivation. The main consumption of glutinous rice is popular. Northern food will be beautiful. Because with the habit of a northern person who has a modest verb Therefore affecting food such as Khao Soi is a local food in the north, formerly known as Ho noodle It looks like noodles. The soup is a spicy curry paste. In the traditional way Khao Soi is composed of pork or chicken, and is commonly eaten with side dishes such as pickled lettuce, red onion, with seasonings such as oil fried chili, lemon juice, fish sauce, and sugar, and nowadays it is added to seafood. Or tofu as an ingredient This dish is not sold abroad. But only in the northern part of Thailand.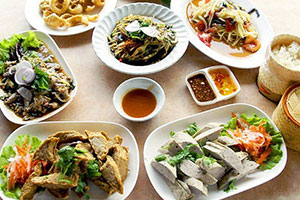 Northeast foods
Differences in natural resources Make food pattern and food handling
Northeast
The food of the community varies. Villagers often find food only from natural food sources. For use in daily consumption, such as for fishing from the river. By being transformed into fermented fish or dried fish for longer consumption As a result, most villagers rely very little on food from the market. In which northeastern food focuses on spicy taste.  
Central foods Most of them have been influenced by foreign countries such as curry paste, curry, Krathi, as well as the high-class food of the Royal people that have been released as well, such as Khao Chae, Chom Muang, Krabai, etc., is a sector with snacks and many desserts such as Krathong Thong, Khao Kraab Pak Mo And the set face rice, etc. 
 
Southern foods It is well known that people in the South are fast talkers, walking fast, so the southern food has brightened up the taste of spicy, salty, sour, very popular Southern food such as fish tai pla, curry. Leung, Kung Chili Paste, Southern Yam, etc. Southern food is influenced by Malayu and India, it is commonly eaten with fresh vegetables.
Traditions and arts and culture of Thailand Will be influenced by Mon, Indian and Khmer, but will be unique in beauty, sophistication and connection with Buddhism, traditions and Thai arts and culture, including.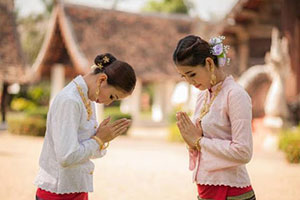 Wai is a greeting tradition that is regarded as the national identity of Thailand. showing respect and respect each other Wai also has other meanings such as thanking, apologizing, and saying goodbye.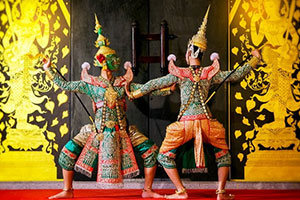 Khon is an ancient dance of Thailand. All performers are required to wear a mask except the lady, the monk and the angel, which are performed using delicate dance moves. Continue the story with dubbing and dialogue, etc.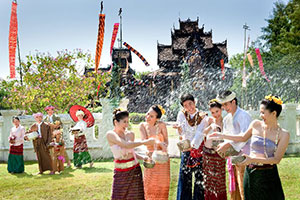 Songkran tradition It is an old tradition of Thailand. It is a celebration of the Thai New Year. There are watering for blessings from the elders, bathing the Buddha images, making merit, offering food to monks and playing with unique water splashing that are fun.
Thailand map has an area of ​​513,115 square kilometers. Which is located at the center of the Indochina Peninsula in Southeast Asia. ax-like with the south being the ax and the west is the ridge, and the north is the ax head and the east and the northeast is a sharp ax Thailand has 77 provinces.
North region
, there are 9 provinces, namely 1. Chiang Rai Province 2. Chiang Mai Province 3. Nan Province 4. Phayao Province 5. Phrae Province 6. Mae Hong Son Province 7. Lampang Province 8. Lamphun Province 9. Uttaradit Province.
Northeast region
has 20 provinces, namely 1. Kalasin Province 2. Khon Kaen Province 3. Chaiyaphum Province 4. Nakhon Phanom Province 5. Nakhon Ratchasima Province 6. Bueng Kan Province 7. Buriram Province 8. Maha Sarakham Province 9. Mukdahan Province 10. Yasothon Province 11. Roi Et Province 12. Loei Province 13. Sakon Nakhon Province 14. Surin Province 15. Sisaket Province 16. Nong Khai Province 17. Nong Bua Lamphu Province 18. Udon Thani Province 19. Ubon Ratchathani Province 20. Amnat Charoen Province.
Central region
has 22 provinces, namely 1. Kamphaeng Phet Province 2. Chainat Province 3. Nakhon Nayok Province 4. Nakhon Pathom Province 5. Nakhon Sawan Province 6. Nonthaburi Province 7. Pathum Thani Province 8. Phra Nakhon Si Ayutthaya Province 9. Phichit Province 10. Phitsanulok Province 11. Phetchabun Province 12. Lop Buri Province 13. Samut Prakan Province 14. Samut Songkhram Province 15. Samut Sakhon Province 16. Singburi Province 17. Sukhothai Province 18. Suphan Buri Province 19. Saraburi Province 20. Ang Thong Province 21. Uthai Thani Province 22. Bangkok Province.
Eastern
region has 7 provinces, namely 1. Chanthaburi Province 2. Chachoengsao Province 3. Chonburi Province 4. Trat Province 5. Prachinburi Province 6. Rayong Province 7. Sa Kaeo Province.
Western region There are 5 provinces in the western region: 1. Kanchanaburi Province 2. Tak Province 3. Prachuap Khiri Khan Province 4. Phetchaburi Province 5. Ratchaburi Province.
Southern
region has 14 provinces, namely 1. Krabi Province 2. Chumphon Province 3. Trang Province 4. Nakhon Si Thammarat Province 5. Narathiwat Province 6. Pattani Province 7. Phang Nga Province 8. Phatthalung Province 9. Phuket Province 10. Ranong Province 11. Satun Province 12. Songkhla Province 13. Surat Thani Province 14. Yala Province.
Category
:
●
Travel Articles, Recipes
Group
:
●
Travel Review, Food Review

Tag
:
●
Overview of Thailand
●
thailand
●
northeastern
●
climate thailand
●
constitution
●
thailand map

Last Update
: 4 MonthAgo

Comment