Thai Culture and Thai Traditions
Rating:
5/5 (1 votes)
Thai culture and Thai traditions The word culture has its roots in Latin, Cultura, and English uses the word Culture. Thailand has coined the word culture to be used in 1940, during the government of Field Marshal Plaek Pibulsongkram by Professor Major General Chao Boromwongtha. Krom Muen Narathip Pongpraphan for the first time coined the word Pruitthi Dharma to use first.
When he saw that it was not popular to use, he changed to use the word culture, which is a word that has melodious and meaningful in accordance with English subjects This word is accepted and used. widespread and still in use today
Culture is something created by man. established without acting on instinct To use in their own society, and culture will appear in the form of systems of thinking (Thinking), doing (Doing) and having (Having), which are all man-made and concocted.
World culture is the Universal Declaration of Human Rights. It consists of 6 fundamental rights:
1. The right to self-determination
2. The right to prevent discrimination race and skin color
3. Women's rights
4. Youth Rights
5. Prohibition of forced or compulsory labor
6. Human rights in service, justice, protection of the accused, imprisonment or detention. These 6 aspects are all related to the way of life. people of all races Different races, religions, beliefs, etc., which is the standard of human society. Humans who are members of the global community must act together.
National culture is a diversity of ethnic groups. that differ in skin color, appearance, beliefs, traditions and way of life, including the combination of living styles that live together in society have to act in certain ways together by having laws, ministerial regulations, rules and regulations that are to be treated with each other must act together.
Folk culture is the way of life of different tribes. living together in the country But there are appearances, skin colors, races, livelihoods, religions, beliefs, customs and traditions that are different. but live together in which country One country is diverse. But there is a way of living. and similar identities.
There are four components of culture
1. There is a concept (Concept) or a philosophy (Philosophy) that originates from the belief in the myth. An environment that is rational or has principles and academic principles as a base. But most of them are derived from religion and nature or called the consensus.
2. There are symbols (Symbols) that convey meaning to cause can understand each other, such as language, gestures, dress, marks, pictures, melodies, rhythms, actions, number systems, and including objects man made Or called the object.
3. Be Organized (Organization) a unit of culture is born. from the integration of cultural characteristics step by step This includes organizing the structure. control to be in normal condition And set a pattern of behavior as a standard for everyone in society to recognize together, sometimes called an organization.
4. Utilization (Usage) is used to benefit society and practitioners Expressed in the form of various rituals such as the ordination ceremony, the ceremony to pay homage to teachers, as well as following the traditions in society. Sometimes called the ceremony.
Type of culture
1. Material culture (Material Culture) refers to the material culture. It is a culture that can be touched with shape. Or are things that humans invent to use in their lives, such as houses, food, tools, appliances, medicines, etc.
2. Non-material culture (Non-material Culture) refers to the abstract culture as Culture that cannot be touched includes language, speech, ideas, values, traditions, beliefs held by human beings about religion, political ideology, this kind of culture sometimes included sports rules Player proficiency or competitors, concepts about the competitors' tactics, including the behavior that is the origin of the competitors and the administrators of the competition as well as social etiquette.
Importance of culture
1. Culture protects people and protects society.
2. Culture sets the norm. or a way of living The coexistence of human beings has a culture, so there is a pattern of living in order to live together in peace.
3. Culture creates identity for society.
4. Creative culture Promote values, mold personality of members of society.
5. Culture creates national security.
Traditions are things that human beings have established for the welfare of human beings. Social life will not be peaceful. If there is no backing tradition, the tradition of the society is not It is a certain thing that is fixed or cannot be changed. contrary to tradition can occur and disintegrate when the social environment changes, knowledge and understanding of nature expands invention more broader science Having contact with other societies has different ways. needs and opportunities to make life comfortable Need to find a new way In accordance with the environment, when it is accepted, it will become a new tradition. Improvements to suit social conditions change the tradition Types of Thai traditions can be divided into 3 types:
1. Customs or moral rules (Mores) refer to traditions that everyone must follow. If any person disobeys, no refrain Acts are considered wrong and evil. Customs are related to the morality of common people in society And that can be seen in Thai society, including the expression of gratitude that children should have towards their fathers. mother when you are old It's the duty of the child. will take care of If the child does not take care of society, it will be punished as being unfilial. Considered evil, no one wants to be with. customs or moral rules of each Society is not the same. Thai society sees that there is a sexual relationship. Before marriage it was against the custom, but the Swedes saw it as normal.
2. Traditions or institutions (Institution) is a tradition that sets a direct order, like a law. Or various regulations, which are clearly laid down as a formality or to know each other without placing a formal order that How should they behave?
3. Tradition or tradition (Convention) refers to various practices in daily life that are practiced. Until I get used to it, it's normal. It is about ordinary situations that are not It is of great importance to the welfare or needs of a society, or is it something everyone practices in general until it becomes a habit or a common standard in that society. Traditions originated without anyone knowing or caring. Investigate the exact history, such as how to dress. How to welcome friends Violators are punished informally or indirectly but not severely or serious in any way, for example, may be gossiped or ridiculed, etc.
Important traditions in Thailand can be divided into 3 types:
1. Family traditions The merit-making has been done since ancient times, including daily morning alms giving, birthday alms giving, festival days, or special merit-making dates.
For example, making merit, opening a building, office, etc. Making merit by giving alms to monks gives 3 benefits:
- It is the merit of the alms-giver.
- Trained to be selfless and share.
- Helping monks and novices.
2. Family traditions making merit for monks Making merit as usual is often done on important occasions such as birthday anniversary, building a new house, opening a new office, celebrating the end of the old year and welcoming the new year. There must be a group of altar tables, asanas, monks. In this ceremony, there will be an offering of precepts. Arathana Praparit Sang Charoen Phra Phutthamon.
Ordination: A man aged 7 years and over, Buddhists will ordain as a novice, called "Ordination", at the age of 20, will be ordained as a monk. will observe 227 precepts.
3. Social traditions or festivals social traditions or festivals It is an organized tradition. Year-round and distributed locally. provinces and regions across the country.
State Ceremonies and Ceremonies State Ceremonies are national ceremonies that are undertaken by the government for a specific purpose. according to the nature of the work The ceremonial states that are regularly scheduled according to the royal calendar are:
-State ceremony to pay homage to King Naresuan at the royal monument
- State Ceremony to commemorate Maha Chakri Day
- State Ceremony to Pay homage to the King's Memorial King Rama VI is in Elegance in the era similar to the day of death
- State ceremonies on constitution day and paid homage to the royal monument King Prajadhipok
- State Ceremony on the Day of King Taksin the Great
- State Opening Ceremony of Parliament
A royal ceremony means a ceremony in which the King performs royal duties. According to the royal traditions that have existed since ancient times or His Majesty's initiatives to be made The royal ceremonies that have been set as annual events in the royal calendar of King Rama IX are as follows:
- New Year's ceremony
- Royal Sacrifice Ceremony
- The Royal Ceremony for Changing the Garments of the Buddha Maha Manee Rattana Patimakorn 3 Seasons
- The Royal Worship Ceremony
- Songkran ceremony
- Thaksinanupadana royal merit-making ceremony and coronation ceremony
- Makha Bucha Royal Ceremony
- Royal Plowing Ceremony
- Royal merit-making ceremony on Vasak Bucha Day
- Royal charity on the day of the cremation of the Lord Buddha
- Royal merit Thaksinanupada presents the ashes of His Majesty the King Chanok and the day of the death of His Majesty King Ananda Mahidol
- The Royal Ceremony of the Naga Royal Ordination Ceremony
- Royal merit-making ceremonies on Asalha Bucha Day and the Buddhist Lent festival
- Royal ceremony to celebrate the birthday of Her Majesty the Queen
- Sart Royal Ceremony
- Royal merit-making ceremony offering Kathina robes
- Royal merit-making ceremony on Chulalongkorn Day
- Royal ceremony to celebrate the birthday of His Majesty the King
northern culture Northern area of Thailand It has borders with Burma, China and Lao People's Democratic Republic. on the administrative side The northern region consists of 15 provinces, namely Phitsanulok, Phichit, Kamphaeng Phet, Tak, Sukhothai, Phrae, Nan, Uttaradit, Phetchabun, Lampang, Lamphun, Chiang Mai, Chiang Rai, Phayao and Mae Hong Son. There are still some specific characteristics that are different, for example, Phitsanulok, Phichit, Sukhothai, and Kamphaeng Phet, often called the upper central region. because the culture has similar to the central region Mae Hong Son province has a culture that is characterized as a group of Thai Yai mixed with Burmese, Phetchabun, which tends to the northeastern region. That is actually a northern cultural group, namely, Lampang, Lamphun, Chiang Mai, Chiang Rai, and Phayao. This group of provinces is called Muang or Yuan or Thai Yuan, which means Yonok. Phrae and Nan provinces have their own characteristics as well.
Most of the northern people have a career in farming, farming, most of the farming is in the black field. Northern people grow sticky rice mostly. Because consuming glutinous rice Sticky rice is of good quality, soft and soft, appetizing. The famous rice variety is San Pa Tong rice. and also grow other field crops such as onions, garlic, beans, tobacco, etc. Having a career in gardening is also popular. Especially gardening longan and lychee. There is another occupation which is the culture of the northern people, namely making miang. Northern people like to eat betel nut and betel leaf. by taking the leaves of the young leaves to ferment It has a sour and astringent taste. when fermented for a long time When taking Miang leaves to suck then mix it with table salt or stuff Eat other things as you like besides eating Miang Lanna people, both women and men, smoke cigarettes wrapped in banana leaves. One roll is the size of a finger. and almost creeping in length Villagers call this type of cigarette "Yo-Yo" or "Yo-Yo" cigarettes that are popular because of the cold weather. smoking causes The body warms up and northerners still have other occupations. May be called a handicraft or The household industry was that the women would weave the fabrics after the rice fields were finished. There was also carving. making silverware, lacquerware, and ironware making, etc.
Lanna culture as well as being a link to Travel between regions to achieve the distribution of tourists. and distribute tourism income thoroughly in the northern region It also encourages cooperation. And develop tourism together between all provinces in the northern region as well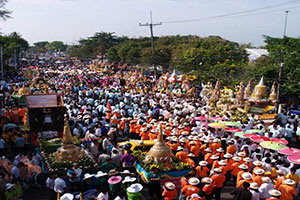 Southern Culture The South is a region of Thailand in the south of the country. Next down from the central region on the Indian Peninsula. It is flanked by the Gulf of Thailand on the east coast and the Andaman Sea on the west coast, covering a total area of 70,715.2 square kilometers. The length from north to south is about 750 kilometers. All provinces of the region have coastal areas. Except Yala province, most of the area is flat. There are important mountain ranges such as Tanaosri mountain range phuket mountain range Nakhon Si Thammarat mountain range The San Kala Khiri mountain range is the border between Thailand and Malaysia. The mountain ranges in the south are 1,000 kilometers long and short. The major rivers are the Phum Duang River, the Tapee River, the Pattani River, the Tha Thong River, the Takua Pa River. Pak Phanang River and the Trang River The beaches on the Gulf of Thailand are formed by high elevation, with long, smooth, wide coastal plains and shallow waters.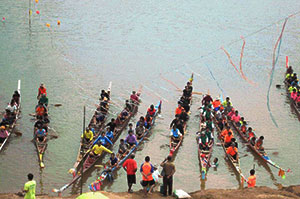 northeastern culture Northeastern region or Northeastern region consists of 19 provinces, namely
Kalasin, Khon Kaen, Chaiyaphum, Nakhon Phanom, Nakhon Ratchasima, Buriram, Maha Sarakham, Mukdahan, Yasothon, Roi Et, Loei, Sisaket, Sakon Nakhon, Surin, Nong Khai, Nong Bua Lam Phu, Amnat Charoen, Udon Thani and Ubon Ratchathani have an area of approximately 170,226 square kilometers or 1 in 3 of the entire country. Located on the Khorat Plateau, the topography of both the elevation and the edge is clearly separated from the central region. It consists of high mountain ranges. west and south The western mountain range has an average height of 500-1,000 meters above sea level. The highest peak in the Northeast is Yod Phu Luang with a height of 1,571 meters and Phu Kradueng with a height of 1,325 meters. It is the source of many rivers such as the Phong River. The Loei River, the Phrom River, the Chi River and Lam Ta Khong River, the abundance of beautiful nature on many high mountain peaks, is the source of thousands of years of ancient civilizations that are of historical value. as well as local culture, simple way of life and the generosity of the Northeastern people It is still a charm that attracts tourists to visit Isaan continuously until now.
 

central culture There are 22 provinces in the central region: Phitsanulok, Sukhothai, Phetchabun, Phichit, Kamphaeng Phet, Nakhon Sawan, Lop Buri, Chai Nat, Uthai Thani, Sing Buri, Ang Thong, Saraburi, Phra Nakhon Si Ayutthaya, Suphan Buri, Nakhon Nayok, Pathum Thani, Nonthaburi, Bangkok, Nakhon Pathom, Samut Prakan, Samut Sakhon and Samut Songkhram. Therefore, most people in the central region are engaged in agriculture. animal husbandry And fishing, both freshwater and saltwater fishing, as well as trading career, is another occupation that people in the central region are very popular because the central region There will be convenient transportation on both land and water, making it ideal for trading.
career in the central region Most of them are farming, but there are many other occupations such as corn, sorghum farming, vegetable gardening, orchards such as orange, pomelo, sweet tamarind, mango, fish farming, shrimp farming, pigs, beef cattle. Milk, broilers, laying hens, etc. There are also various industries, trade, service work, but they are all important occupations. Bangkok is a large city with a large population. Include all economic activities and at the same time include all kinds of problems such as slums. Crime, drugs, traffic jams Air and water pollution The central region therefore is the center of all aspects of the economy. Therefore, the average population in this district has a better living than the population in other districts. As the country began to produce more industrial output, expansion began in this sector and thus the current export value of Industrial produce exceeds the export value of agricultural produce. This does not mean that we are sending less agricultural products. Rather, it is the result of comparing the values between two groups of economic activities. 
Category: Art, Culture and Heritage
Group: Art, Craft Centres, Tradition

Last Update : 4 WeekAgo
Recommend
Historical Sites and Monuments(8)
Landmarks and Memorials(4)
Royal Palace(2)
Art, Craft Centres, Tradition(24)
Museums(23)
Educational Gardens, Farm(5)
Training Center(1)
Temple(80/1270)
Mosque(2)
Other religious and spiritural sites(17)
Royal Project(44)
Village, Community(28)
Local Market(13)
National Parks and Marine Reserves(16)
Mountain (Doi)(18)
Dam, Reservoir, Lake(25)
Waterfalls(42)
Hot Springs(13)
Caves(10)
River, Canal(5)
Other natural attractions(12)
Zoos and Aquariums(2)
Animal camps and shows(3)
Farm, Parks, Gardens and Ecotourism(12)
Outdoor and Adventure Activities(5)
Shopping and Night Market(4)
Call Customer Service in Tourism(1)
Travel Review, Food Review(14)
Food Menu, North Recipes(28)
Thai Desserts, North Recipes(17)