Chiang Rai Rajabhat University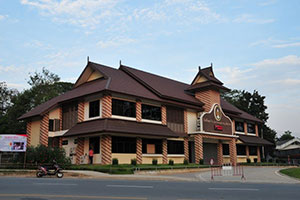 Rating:
4.1/5 (7 votes)
Chiang Rai Rajabhat University February 14, 1992, His Majesty King Bhumibol Adulyadej His Majesty the King His Majesty bestowed the name of the institute as "Rajabhat Institute" from the former Teachers College in order to be consistent. with a variety of production Graduates of the institute by the Chiang Rai Rajabhat Institute It is a government agency in the office of the council.
Rajabhat Institute under the Ministry of Education and the Office of Rajabhat Institute Council is a juristic person with status equivalent to that of a Department in The Ministry of Education came into force from 25 January 1995 with a royal command appointing Asst. Prof. Suthep Pongsriwat to be the first rector of Chiang Rai Rajabhat Institute since June 9 1995.

Website : www.crru.ac.th

Tel : 053776000

Fax : 053776001
Category: University
Group: Rajabhat University

Last Update : 2 YearAgo
Chiang Rai Rajabhat University Map
Recommend
Muang Chiang Rai(1)