Chiang Mai University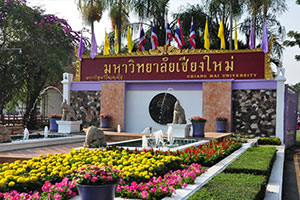 Rating:
4.2/5 (5 votes)
Chiang Mai University was founded in January 1964, under a Royal Charter granted by His Majesty King Bhumibol Adulyadej.
CMU was the first institution of higher education in the north, and the first provincial university in Thailand.
Chiang Mai University is a Leading University with Academic Excellence in International Standards, focusing to become a research-oriented institution of higher education and producing graduates with high moral and ethical standards, equipped to practice good governance under the Sufficiency Economy Philosophy and Sustainable Development.

Website : www.cmu.ac.th

Tel : 053943333, 944444

Fax : 053944900
Category: University
Group: Autonomous Universities

Last Update : 9 YearAgo
Chiang Mai University Map
Recommend
Muang Chiang Mai(2)