Wat Thung Luang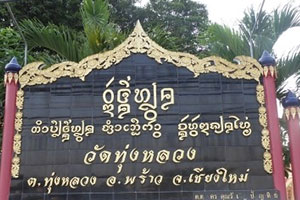 Rating:
4.3/5 (4 votes)
Operating day: Daily
Operating time: 08.00 - 17.00
Wat Thung Luang is located in Baan San Ma Na, Tambon Thung Luang, Amphoe Phrao, Chiang Mai. Resolution is part of the bell tower is a local museum.
Collection of antiques and importance objects. The exhibit of ancient coins and ancient currency for study. It is a part of Thai Cultural Center Saiyai - Chumchon Wat Thung Luang.
Category: Places of Worship
Group: Temple

Last Update : 8 YearAgo
Wat Thung Luang Map
Recommend
Muang Chiang Mai(121)
Chom Thong(47)
Mae Chaem(25)
Chiang Dao(33)
Doi Saket(68)
Mae Taeng(85)
Mae Rim(69)
Samoeng(29)
Fang(71)
Mae Ai(63)
Phrao(70)
San Pa Tong(105)
San Kamphaeng(66)
San Sai(73)
Hang Dong(74)
Hot(32)
Doi Tao(22)
Omkoi(11)
Saraphi(74)
Wiang Haeng(15)
Chai Prakan(28)
Mae Wang(32)
Mae On(22)
Doi Lo(34)
Galyani Vadhana(1)