Pang Ung or Royal Forest Park Project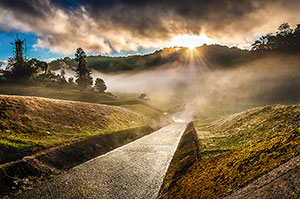 Rating:
3.5/5 (11 votes)
Operating day: Daily
Operating time: 06.00 - 18.00
Pang Ung or Royal Forest Park Project Mok Cham Pae, Muang Mae Hong Son, Mae Hong Son. Or with the full name of the project called Pang Tong 2 (Pang Ung) is the initiative of His Majesty the King saw that this area is a dangerous area. Adjacent to the Burmese border, there are various forces, transporting cultivated crops.
Including the invasion of deforestation areas, His Majesty the King and Queen, therefore, have a royal initiative to gather a small group of people around the area and develop their livelihood, promote forest plantation, build reservoirs With a royal intention to build a border security Improve the well-being of the people and improve the conservation of natural resources to be completely sustainable forever.
At home, combining Thai It is a place with great views. Received the nickname Switzerland, Sam Mok, has two pine trees, three pine leaves lined along a vast reservoir. And surrounded by lush green mountains.
Ung means lowland like a large pan. With marshy water Previously, this area was an opium farm for hilltribe people. At present, the plants are planted with various colorful winter flowers. And herbs that are useful in food and traditional Thai medicine.
In addition to watching the atmosphere of the morning mist Another activity that can not be missed is the ride of the raft, the scenery and the surrounding atmosphere. Including watching the idols of Pang Ung That is, the swan from the Queen Which is one pair of black swans and white swans, and should not miss to visit Pang Ung Garden near the Royal Project Office.
Which was built to have plants that blend in with the high topography of the opium plantation Abandoned, but traditional, which is a plant that gives food and medicine benefits.
And create harmony with the landscape such as avocado, persimmon, pear, plum and also decorated with a garden Winter flowers like roses, hydrangeas, bunches, and also try to bring the local flora and fauna of Pang Ung area back, such as Eang Sae and various orchids and animals such as land.
Which is in harmony with the top and cool terrain With local aquaculture ponds Which is about to become extinct For more information, please call 0-5369-2056, 0-5368-1740.
Travel: From Mae Hong Son Take the Mae Hong Son - Pang Ma Pha route for about 10 kilometers. Turn left, the same route to Phu Klon. Through Pha Mat Waterfall Pang Tong Palace Travel more and more.
Notice the intersection on the left hand side. There will be a small sign. Write to "Ban Ruam Thai". Turn left. Through Huai Makhuea Som village, then to Ban Thai or Pang Ung, this route curves up to steep hills and narrow roads. Sometimes there are foggy obstacles. Should travel during the day If traveling by bus Take the bus in front of Mae Hong Son Town Market.
There is a car queue to Pang Ung at 09.00 hrs. And 15.00 hrs. And depart from Pang Ung at 05.30 hrs. And 11.00 hrs. It takes about 2 hours to travel.
Category: Research and Development
Group: Royal Project

Last Update : 4 YearAgo
Pang Ung or Royal Forest Park Project Map
Gellery
Recommend
Historical Sites and Monuments(1)
Landmarks and Memorials(1)
Art, Craft Centres, Tradition(9)
Museums(3)
Educational Gardens, Farm(1)
Temple(82/132)
Other religious and spiritural sites(1)
Royal Project(4)
Village, Community(19)
Local Market(4)
National Parks and Marine Reserves(5)
Mountain (Doi)(4)
Dam, Reservoir, Lake(2)
Waterfalls(12)
Hot Springs(5)
Caves(13)
Flower Field(2)
River, Canal(3)
Farm, Parks, Gardens and Ecotourism(1)
Shopping and Night Market(1)