Rajamangala University of Technology Lanna (Chiang Rai Campus)
(View 5884 Time)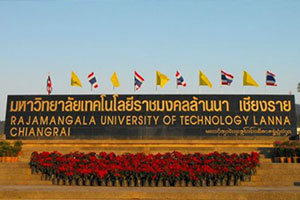 Rating:
3.4/5 (8 votes)
Rajamangala University of Technology Lanna (Chiang Rai Campus), The campus was established to honor His Majesty. The Jubilee celebrations of 50 years in 2539 to spread education and local development.
Our focus in the northern area of ​​the rectangle and the economy. Located in Si Phan, Chiang Rai, Mae Lao district sand on an area of 5,000 hectares in the first phase of the teaching methods at the school campus. Chiang Mai Then moved on to teaching at Chiang Rai in the year 2544 was the first year.
Current High School Open teaching 2 levels, Diploma (Diploma.) And 3 of an undergraduate degree in the Faculty of Engineering. Faculty of Arts And Faculty of Agricultural Science and Technology.

Website : www.chiangrai.rmutl.ac.th

Tel : 0537296005

Fax : 053729606-7
Category: University
Group: Rajamangala University of Technology

Last Update : 8 YearAgo
Rajamangala University of Technology Lanna (Chiang Rai Campus) Map
Recommend