Wat Rong Khun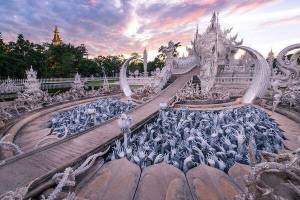 Rating:
4.2/5 (5 votes)
Operating day: Daily 
Operating time: 08.00 - 17.00 
Wat Rong Khun rated "excellent" by travelers
Wat Rong Khun is also known as the White Temple. Whereas most temples visited by tourists have a history going back many centuries, this magnificent place of worship was built only recently. It is the realization of a dream for Thailands noted artist, Mr Chalermchai Kositpipat, who designed and is supervising the construction of this beautiful white temple and its many statues of figures based on religious beliefs.
The construction started in 1998 and is expected to be completed in 2008. In addition, there is a gallery nearby exhibiting his paintings. To get there from the city of Chiang Rai, drive north along Asia Highway. 

Website : www.วัดร่องขุน.com

Tel : 053673579

Fax : 053673539
Category: Places of Worship
Group: Temple

Last Update : 9 YearAgo
Wat Rong Khun Map
Gellery
Recommend
Historical Sites and Monuments(3)
Landmarks and Memorials(6)
Art, Craft Centres, Tradition(3)
Museums(7)
Historical Houses and The Ancient City(1)
Educational Gardens, Farm(3)
Temple(38)
Other religious and spiritural sites(5)
Royal Project(9)
Village, Community(14)
Local Market(5)
National Parks and Marine Reserves(18)
Mountain (Doi)(13)
Dam, Reservoir, Lake(7)
Waterfalls(16)
Hot Springs(6)
Caves(8)
River, Canal(10)
Sea, Beach(1)
Other natural attractions(2)
Animal camps and shows(1)
Farm, Parks, Gardens and Ecotourism(3)
Shopping and Night Market(2)
Call Customer Service in Tourism(1)
Food Menu, North Recipes(1)