Mahamakut Ratcha Wittayalai University Lanna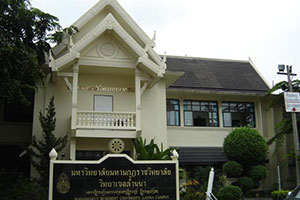 Rating:
4.3/5 (6 votes)
Mahamakut Ratcha Wittayalai University Lanna It is the fifth campus of Mahamakut Wittayalai University. It was established by Phra Thammadilok (Chan Kuslo), the primate of Regions 4-5-6-7 (T), who at that time held the title of Phra Thep Poet. by mutual consent of the Chiang Mai Sangha.
And alumni Mahamakut Wittayalai Phra Thammadilok (Khan Khantiko), the abbot of Wat Chedi Lao Worawihan at that time Has allowed and facilitated the use of Wat Chedi Luang Worawihan as a location and business operation opening Started from the academic year 1991, with the sponsorship of the initial expenses from the Mahamakut Rajawittaya Foundation under the Royal Patronage of His Majesty the King.
How to get there: No. 103, Chedi Luang Temple Phra Pok Klao Road, Phra Sing Subdistrict, Mueang District, Chiang Mai Province.

Website : www.lanna.mbu.ac.th

Tel : 053270975-6

Fax : 053814752
Category: University
Group: Autonomous Universities

Last Update : 2 YearAgo
Mahamakut Ratcha Wittayalai University Lanna Map
Recommend
Muang Chiang Mai(2)