Local Food of Thailand
Rating:
5/5 (1 votes)
Local Food of Thailand Thai traditional food is delicious and mellow. Many different flavors And retains the identity of wisdom And the culture of Thai people in each locality that invented creatively to be healthy food It is a nutritionally balanced diet. That is the perfect combination between different types of food. And the amount of food Most Thai food has rice as the main ingredient. May be sticky rice or rice, depending on the local area, with nutritional rice And most vitamins Is brown rice. 
Local Food of Thailand Most of the time, the cooking will be staple, curry, stew and yum, which has very simple cooking methods Does not take much time But with meticulousness Use relatively little cooking oil. Not much meat is used. The protrine source can be from fish, eggs, pigs and other animals. Some local Various seasonings will use natural herbs. Most importantly, a variety of local food that can be found Will bring it to cook Or used to make dips and chili foods Or different types of simmer, traditional Thai food is low-fat but high in dietary fiber It has nutritional value such as vitamins, minerals, enzymes, fatty acids. Which is safe from chemicals and also provide medicinal value.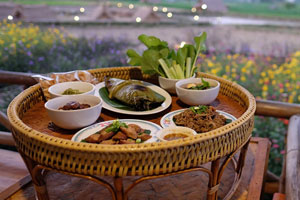 North Foods
There is a way of life bound to the culture of rice cultivation. The main consumption of glutinous rice is popular. Northern food will be beautiful. Because with the habit of a northern person who has a modest verb Therefore affecting food such as Khao Soi is a local food in the north, formerly known as Ho noodle It looks like noodles. The soup is a spicy curry paste. In the traditional way Khao Soi is composed of pork or chicken, and is commonly eaten with side dishes such as pickled lettuce, red onion, with seasonings such as oil fried chili, lemon juice, fish sauce, and sugar, and nowadays it is added to seafood. Or tofu as an ingredient This dish is not sold abroad. But only in the northern part of Thailand.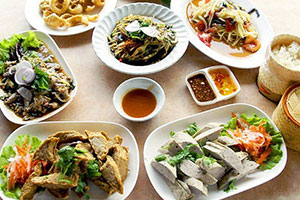 Northeast foods
Differences in natural resources Make food pattern and food handling
Northeast
The food of the community varies. Villagers often find food only from natural food sources. For use in daily consumption, such as for fishing from the river. By being transformed into fermented fish or dried fish for longer consumption As a result, most villagers rely very little on food from the market. In which northeastern food focuses on spicy taste.  
Central foods Most of them have been influenced by foreign countries such as curry paste, curry, Krathi, as well as the high-class food of the Royal people that have been released as well, such as Khao Chae, Chom Muang, Krabai, etc., is a sector with snacks and many desserts such as Krathong Thong, Khao Kraab Pak Mo And the set face rice, etc. 
 
Southern foods It is well known that people in the South are fast talkers, walking fast, so the southern food has brightened up the taste of spicy, salty, sour, very popular Southern food such as fish tai pla, curry. Leung, Kung Chili Paste, Southern Yam, etc. Southern food is influenced by Malayu and India, it is commonly eaten with fresh vegetables.
Category: Travel Articles, Recipes
Group: Travel Review, Food Review

Last Update : 2 YearAgo
Recommend
Historical Sites and Monuments(8)
Landmarks and Memorials(4)
Royal Palace(2)
Art, Craft Centres, Tradition(24)
Museums(23)
Educational Gardens, Farm(5)
Training Center(1)
Temple(80/1270)
Mosque(2)
Other religious and spiritural sites(17)
Royal Project(44)
Village, Community(28)
Local Market(13)
National Parks and Marine Reserves(16)
Mountain (Doi)(18)
Dam, Reservoir, Lake(25)
Waterfalls(42)
Hot Springs(13)
Caves(10)
River, Canal(5)
Other natural attractions(12)
Zoos and Aquariums(2)
Animal camps and shows(3)
Farm, Parks, Gardens and Ecotourism(12)
Outdoor and Adventure Activities(5)
Shopping and Night Market(4)
Call Customer Service in Tourism(1)
Travel Review, Food Review(14)
Food Menu, North Recipes(28)
Thai Desserts, North Recipes(17)