Wat Pa Sa
(View 1563 Time)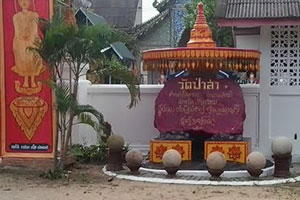 Rating:
4/5 (5 votes)
Operating day: Daily
Operating time: 08.00 - 17.00
Wat Pa Sa is under the Maha Nikaya, located at Moo 2, Ban Pa Sa, Tambon San Sai, Amphoe Saraphi, Changwat Chiang Mai. In the past, people migrated from Ban Sob Han, Amphoe San Pa Tong to settle down at Ban Pa Sa.
Those people's career was making Sa papers and this area had many sa trees. They built this temple and called Wat Pa Sa. Wat Pa Sa is over 300 years old.
Buildings in the temple are a vihara, an ubosot, a sermon hall in a monastery, a praying hall, monk dwellings, a pagoda, and a Dhamma studies school. Wat Pa Sa was officially appointed to be Buddhist sanctuary under the King's grant in 1974.
Category: Places of Worship
Group: Temple

Last Update : 7 YearAgo
Wat Pa Sa Map
Recommend
Muang Chiang Mai(121)
Chom Thong(47)
Mae Chaem(25)
Chiang Dao(33)
Doi Saket(68)
Mae Taeng(85)
Mae Rim(69)
Samoeng(29)
Fang(71)
Mae Ai(63)
Phrao(70)
San Pa Tong(105)
San Kamphaeng(66)
San Sai(73)
Hang Dong(74)
Hot(32)
Doi Tao(22)
Omkoi(11)
Saraphi(74)
Wiang Haeng(15)
Chai Prakan(28)
Mae Wang(32)
Mae On(22)
Doi Lo(34)
Galyani Vadhana(1)