Wat Buak Krok Nuea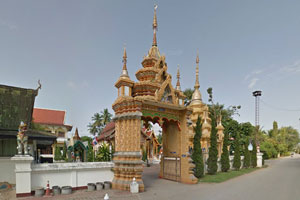 Rating:
3.7/5 (7 votes)
Operating day: Daily
Operating time: 08.00 - 17.00
Wat Buak Krok Nuea is located at Ban Buak Krok Nuea, Moo 8, Tambon Ta Wang Tan, Amphoe Saraphi. There is no obvious reference of history of Wat Buak Krob Nuea, but its history was told by old people that the name of the temple came from 2 words, Buak means or a pond and Krok means a wooden mortar.
When a mortar was old. Villagers threw their mortars into a pond, which is about 500 meter away from the temple. Later in 1852, the community expanded to a larger group.
They decided to build another temple in the same name. But the two temples have been separated by names as Wat Buak Krok Nuea (north) and Wat Buak Krok Tai (south), until present.
Category: Places of Worship
Group: Temple

Last Update : 7 YearAgo
Wat Buak Krok Nuea Map
Recommend
Muang Chiang Mai(121)
Chom Thong(47)
Mae Chaem(25)
Chiang Dao(33)
Doi Saket(68)
Mae Taeng(85)
Mae Rim(69)
Samoeng(29)
Fang(71)
Mae Ai(63)
Phrao(70)
San Pa Tong(105)
San Kamphaeng(66)
San Sai(73)
Hang Dong(74)
Hot(32)
Doi Tao(22)
Omkoi(11)
Saraphi(74)
Wiang Haeng(15)
Chai Prakan(28)
Mae Wang(32)
Mae On(22)
Doi Lo(34)
Galyani Vadhana(1)