Wat Rong Khum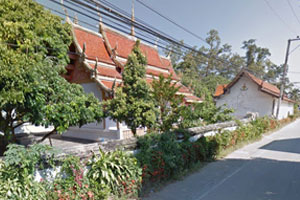 Rating:
2.9/5 (16 votes)
Operating day: Daily
Operating time: 08.00 - 17.00
Wat Rong Khum Ban Mae, San Pa Tong, Chiang Mai. Wat Rong Khum Temple is at 7 Tambon Ban Mae, Ampur Sanpatong, Chiang Mai Province.
This temple is affiliated with Mahanigai (a sect of Buddhist). This temple is located in the middle of the village with full squared walls. It was built around 1897.
In the temple, there are three 100 year Bodhi trees and a remarkable pagoda in Lanna architecture style. The abbot is Pra Sitthi Sitthipanyo.
Category: Places of Worship
Group: Temple

Last Update : 8 YearAgo
Wat Rong Khum Map
Recommend
Muang Chiang Mai(121)
Chom Thong(47)
Mae Chaem(25)
Chiang Dao(33)
Doi Saket(68)
Mae Taeng(85)
Mae Rim(69)
Samoeng(29)
Fang(71)
Mae Ai(63)
Phrao(70)
San Pa Tong(105)
San Kamphaeng(66)
San Sai(73)
Hang Dong(74)
Hot(32)
Doi Tao(22)
Omkoi(11)
Saraphi(74)
Wiang Haeng(15)
Chai Prakan(28)
Mae Wang(32)
Mae On(22)
Doi Lo(34)
Galyani Vadhana(1)