Wat Phra Chao Ton Luang
(View 2660 Time)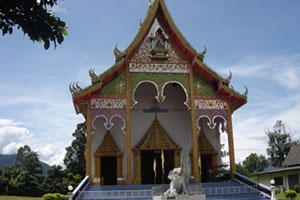 Rating:
3.4/5 (7 votes)
Operating day: Daily
Operating time: 08.00 - 17.00
Wat Phra Chao Ton Luang The temple is associated with Phrao history. The Phraya Kue Na came to Phrao.
He was built the temple during in 1385 by the construction of big Buddha statue sitting on the backs of elephants. It was at the end of Lanna art. Currently being registered. There are the monks in the temple.
Category: Places of Worship
Group: Temple

Last Update : 8 YearAgo
Wat Phra Chao Ton Luang Map
Recommend
Muang Chiang Mai(121)
Chom Thong(47)
Mae Chaem(25)
Chiang Dao(33)
Doi Saket(68)
Mae Taeng(85)
Mae Rim(69)
Samoeng(29)
Fang(71)
Mae Ai(63)
Phrao(70)
San Pa Tong(105)
San Kamphaeng(66)
San Sai(73)
Hang Dong(74)
Hot(32)
Doi Tao(22)
Omkoi(11)
Saraphi(74)
Wiang Haeng(15)
Chai Prakan(28)
Mae Wang(32)
Mae On(22)
Doi Lo(34)
Galyani Vadhana(1)