Wat Buddhanimit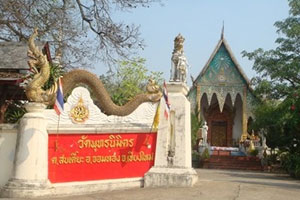 Rating:
4/5 (10 votes)
Operating day: Daily
Operating time: 08.00 - 17.00
Wat Buddhanimit Temple (Wat Prabat Huay Eling Temple) was built in 1937 by Pra Kru Intayanarangsri (Kruba Inta). This temple is at Bantan Dokmai Village,Tambon Sobtei, Ampur Jomthong, Chiang Mai Province.
Kruba Sriwichai (a famous saint of Lanna) found the Buddhist historical site (a foot print of Buddha)here in 1827 so he built the pavilion to cover this historic evidence, Later people also built a wall to protect it.
Now instead of pavilion, Prakru Intayanarangsri (Ma), the abbot of this temple, and his followers built a temple hall to cover this important Buddha's footprint.
Category: Places of Worship
Group: Temple

Last Update : 2 YearAgo
Wat Buddhanimit Map
Recommend
Muang Chiang Mai(121)
Chom Thong(47)
Mae Chaem(25)
Chiang Dao(33)
Doi Saket(68)
Mae Taeng(85)
Mae Rim(69)
Samoeng(29)
Fang(71)
Mae Ai(63)
Phrao(70)
San Pa Tong(105)
San Kamphaeng(66)
San Sai(73)
Hang Dong(74)
Hot(32)
Doi Tao(22)
Omkoi(11)
Saraphi(74)
Wiang Haeng(15)
Chai Prakan(28)
Mae Wang(32)
Mae On(22)
Doi Lo(34)
Galyani Vadhana(1)