Wat Lam Chang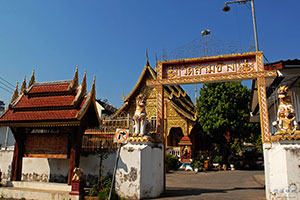 Rating:
3.6/5 (5 votes)
Operating day: Daily
Operating time: 08.00 - 17.00
Wat Lam Chang Temple is at 32 Moolmuang Road, Soi7, Tambon Sriphum, Ampur Muang, Chiang Mai Province. This Temple is affiliated with Maha Nikai ( a sect of Buddhism).
When Praya Mungrai, King of Lanna, built Chiang Mai city (Nopburi Srinakornping Chiang Mai) around 1292-1296, he stayed at what now called Wat Chiang Man Temple.
The East of Wat Chiang Man Temple has a small pond and people set elephant farm by the pond and call the place " Vieng Chiang Chang".
Later on, a temple was built here to be a monument for elephants and named this temple " Wat Lam Chang Temple" as you can see the elephant statues around the temple.
Category: Places of Worship
Group: Temple

Last Update : 2 YearAgo
Wat Lam Chang Map
Recommend
Muang Chiang Mai(121)
Chom Thong(47)
Mae Chaem(25)
Chiang Dao(33)
Doi Saket(68)
Mae Taeng(85)
Mae Rim(69)
Samoeng(29)
Fang(71)
Mae Ai(63)
Phrao(70)
San Pa Tong(105)
San Kamphaeng(66)
San Sai(73)
Hang Dong(74)
Hot(32)
Doi Tao(22)
Omkoi(11)
Saraphi(74)
Wiang Haeng(15)
Chai Prakan(28)
Mae Wang(32)
Mae On(22)
Doi Lo(34)
Galyani Vadhana(1)