Wat Kuan Ka Ma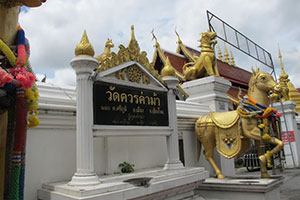 Rating:
3.8/5 (5 votes)
Operating day: Daily
Operating time: 08.00 - 17.00
Wat Kuan Ka Ma Si Phum, Muang Chiang Mai, Chiang Mai. History of this temple writing on wooden sign above(I think it's no permanent sign) tell about this temple don't have distinct history but was built in 2035 B.E. by a merchant that love his house so much.
When the house dead he was built this temple for remembrance. And donated this land for temple.
Category: Places of Worship
Group: Temple

Last Update : 2 YearAgo
Wat Kuan Ka Ma Map
Recommend
Muang Chiang Mai(121)
Chom Thong(47)
Mae Chaem(25)
Chiang Dao(33)
Doi Saket(68)
Mae Taeng(85)
Mae Rim(69)
Samoeng(29)
Fang(71)
Mae Ai(63)
Phrao(70)
San Pa Tong(105)
San Kamphaeng(66)
San Sai(73)
Hang Dong(74)
Hot(32)
Doi Tao(22)
Omkoi(11)
Saraphi(74)
Wiang Haeng(15)
Chai Prakan(28)
Mae Wang(32)
Mae On(22)
Doi Lo(34)
Galyani Vadhana(1)