Thai Desserts in Each Region of Thailand
Rating:
2.5/5 (13 votes)
Thai Desserts in Each Region of Thailand Thai desserts are unique in Thai national culture. They are delicate and delicate in selecting raw materials, meticulous methods of making, delicious and sweet taste. with beautiful colors Appetizing appearance as well as elaborate methods.
In ancient times, Thai people would only make sweets on important occasions, such as making merits, weddings, important festivals, or welcoming important guests. Because some desserts require a lot of manpower and time to do it. Most of them are traditions such as wedding desserts, traditional desserts such as Khanom Krok, dessert cups, etc. The desserts in the fence in the palace will look beautiful. And there is a sophistication and elaboration in the arrangement of beautiful dessert shapes. which can divide Thai desserts Traditional desserts can be found in the regions of Thailand as follows.
1. Northern Thai desserts Most of them are made from glutinous rice. And most of them use boiling methods such as Khanom Wong, Khanom Thien and Khao Hua Hok Porridge, etc. They are usually made during important festivals such as Songkran Festival. or on the day of Buddhist Lent, etc.
Desserts that are popular for making merit at almost all festivals are Khanom Jok or Khanom Thien. Khanom Pad, which is similar to Kanom Sila-on, Khao E-tu or red glutinous rice, Khanom Kluea, Khao Tan or Khao Tan, etc. Snacks that are popular for eating only in winter include sesame rice, which is roasted sesame seeds pounded with glutinous rice. If adding sugarcane juice, it is called sesame, sugar cane pound, narrow rice or kite crackers, boiled luk lan, luk kao, ginkgo beans and edamame beans, etc.
In Mae Hong Son Province Local desserts include Khanom Al-lawa, which is similar to Khanom Mo Kaeng, Khanom Peng Mong, which is similar to Khanom Al-Wa, but the flour is fermented first. Suay Tamin dessert is made from steamed glutinous rice. cane sugar and coconut milk During the period when there is a lot of cane sugar, 2 types of desserts are popularly made: sesame, made from sugar cane simmered to be sticky like nougat and then mixed with sesame, and pai yo, made from cane sugar and peanuts. looks like cut peas.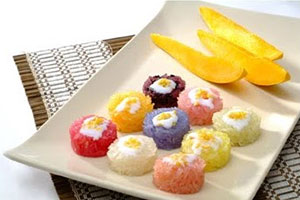 2. Thai desserts in the central region Most of the desserts are made from rice such as Khao Tang, Khao Niao Moon, Nang Led, and there are traditional desserts that come loose from the palace fence. until widely spread to the common people such as Luk Chub, Khanom Klebe Lamduan, Khao Mo Kaeng, Thong Yib, Foi Thong, Khanom Tan, Khanom Taro and Kanom Kluay, etc.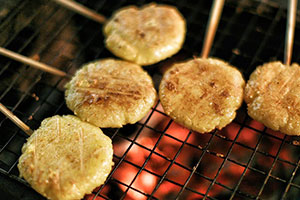 3. Thai desserts in the northeastern region It is a dessert that is easy to make without being very meticulous like other desserts. Traditional northeastern desserts, such as bai tamarind or tamarind afternoon rice, khao jee and khao pong, etc. In addition, it is often a dessert in a merit ceremony called Khao Pradab Din. The villagers brought rice wrapped in banana leaves. tied with hammered khao tom tie, khao thip, khao sart, khao yaku, local desserts of Loei province are usually simple snacks such as salt afternoon rice, steamed glutinous rice dipped in honey. It is glutinous rice shaped into cubes and dipped in salt to give it a salty taste. If there is tamarind, it will be put into a filling called tamarind, afternoon rice, sugarcane juice, coconut milk, made with sugarcane juice that has been simmered until sticky. Add roasted peanuts and chopped coconut. Puffed rice is made from roasted rice and shredded coconut. and roasted peanuts Stir with sugarcane juice until sticky, pour into a tray. In various merit-making events, it is popular to make cakes. (like rhombuses of the central region), Lod Chong and Khanom Mok (glutinous rice flour milled Shape into a ball, put the carrots. Wrapped in a triangle like a candy cane. before steaming).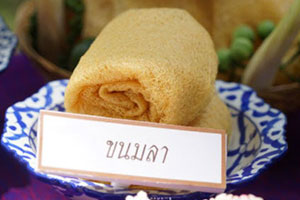 4. Southern Thai desserts Southerners believe in the festival of the tenth lunar month, they make merit with snacks that are only available in the southern region, such as Khanom Phong, Khanom La, rice porridge wrapped in cabbage leaves, Kanom Dee Sum or Mesum, Ear piercing or pierced candy, fish egg dessert, ba or luk saba dessert, and red dessert, etc. Examples of traditional southern desserts are
- Kanom Na Khai is made from rice flour kneaded with sugar and steamed. The dessert topping is made with coconut milk mixed with eggs, salt, sugar, lemongrass and onions. Pour over the dessert and steam it again.
- Duck neck dessert is made from rice flour mixed with glutinous rice flour. Knead together with eggs, rolled into strips, cut into pieces, fried, cooked, then mixed with jaggery that simmered until thick and sticky.
- Khanom Khie Man Mai is a dessert of Thai Muslims. Made from cassava, brought to a boil. Sprinkle with rice flour, keep it for 1 night, 1 day before eating.
Khanom Zhujun is made from rice flour kneaded with syrup and fried. It looks sticky and oily.
- Khonthi desserts are made from Khon Tee leaves. Mix with flour and sugar, steam until cooked, mix with grated coconut. Dip with sugar.
- Khanom Kor is made from rice flour stirred with coconut milk and salt. Pour into a tray, sprinkle with spring onions, cut into pieces, sprinkle with grated roasted coconut, ground dried shrimp and sugar.
- Kan Bua Khanom made from steamed glutinous rice Pound it with a wooden mortar until it becomes flour, flattened, dried in the sun until dry, cut into rectangular shape, fried until cooked, plastered with syrup.
- Phong Chae dog poo will look like a lump made from roasted glutinous rice until it turns brown. Pound thoroughly mixed with grated coconut. jaggery, simmered until thick Mix well then form a ball.
- sesame sticky rice It is steamed glutinous rice. Pound mixed with sesame and sugar.
- Sticky rice with Suea Kluea It's similar to the fried corn of the central region, but turns the corn into steamed glutinous rice and adds coconut milk as well.
- Khanom Dada is a dessert of Thai Muslims. Used on the same occasion as killing milk. consists of rice Glutinous rice mixed with water, ground thoroughly. Smear it in a pan with hot oil. fold into sheets eat with liquid sugar.
- Kongtung dessert made from roasted peanuts tossed with hot sugar Then use wood to beat thoroughly until it is a sheet, cut into pieces.
- Kham Duang is made from tapioca flour and rice flour. Massage with jasmine water Shape into cubes about four centimeters long and steam them. When cooked, bring to a plate. By sprinkle with grated coconut or sugar.
- Crunchy snacks are popularly made in Surat Thani. Use glutinous rice flour to knead with warm water. To be rolled to spread thin on banana leaves. Then steamed and dried in the sun. Then fry until crispy mixed with sugar that is simmered in soft rubber. 
Category: Travel Articles, Recipes
Group: Travel Review, Food Review

Last Update : 2 YearAgo
Recommend
Historical Sites and Monuments(8)
Landmarks and Memorials(4)
Royal Palace(2)
Art, Craft Centres, Tradition(24)
Museums(23)
Educational Gardens, Farm(5)
Training Center(1)
Temple(80/1270)
Mosque(2)
Other religious and spiritural sites(17)
Royal Project(44)
Village, Community(28)
Local Market(13)
National Parks and Marine Reserves(16)
Mountain (Doi)(18)
Dam, Reservoir, Lake(25)
Waterfalls(42)
Hot Springs(13)
Caves(10)
River, Canal(5)
Other natural attractions(12)
Zoos and Aquariums(2)
Animal camps and shows(3)
Farm, Parks, Gardens and Ecotourism(12)
Outdoor and Adventure Activities(5)
Shopping and Night Market(4)
Call Customer Service in Tourism(1)
Travel Review, Food Review(14)
Food Menu, North Recipes(28)
Thai Desserts, North Recipes(17)